6 Dentist-Approved Tips for Cavity Prevention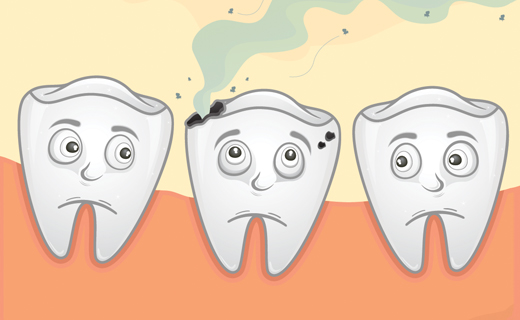 Cavities are holes or openings that form on the surface of your teeth. Also called tooth decay or dental caries, they are caused by oral bacteria, sugary beverages, sweet and starchy snacks, and poor oral hygiene. Tooth decay is one of the most common dental problems in the world. Anyone who has teeth is at risk of developing a cavity, but they are especially common in children, teens, and seniors. The following are essential tips for cavity prevention. If you are already practicing the listed suggestions, and your dental care home routine still doesn't seem to be effective, ask your dentist or hygienist for advice, instruction, or product recommendations.
The adults and children tooth decay affects most are those who aren't practicing consistent oral hygiene. Using a soft-bristled toothbrush and fluoride toothpaste, brush twice daily and after meals when possible, and floss every day. If you can't brush after meals, rinse your mouth with plain water.
If you are at significant risk of developing cavities, consider using a fluoride mouth rinse.
Drink fluoridated tap water regularly.
Snack less. If you snack or sip on beverages throughout the day, your oral bacteria will produce acids that hasten the destruction of tooth enamel.
Eat healthy, tooth-friendly foods like fresh fruits and vegetables and unsweetened drinks. Try to avoid chips, candies, and sweets that get stuck in your teeth unless you can brush immediately after eating them.
If you are at high risk for developing cavities, talk to your dentist about dental sealants. The treatments are applied to the chewing surface of each back tooth to seal off the grooves that collect residual food and harbor plaque. You may also discuss professional fluoride treatments or antibacterial mouth rinses.
Affordable dentists are your smile's best friends. Visit your dentist in Bradenton regularly for exams and professional dental cleanings. To learn about our family dentistry practice in Bradenton, call today at or make an appointment. Manatee Dental offers affordable family dentistry and gentle, compassionate dental care in Bradenton. With 2 affiliated practices in the Bradenton area, our offices are conveniently located with extended hours to meet your needs. At , we provide most dental services, from basic preventative care and general dentistry to specialized procedures and complete dental reconstruction. We accept most dental insurance plans and offer affordable financial solutions for any budget. Patient satisfaction is our top priority and we strive to provide the exceptional, affordable dental care and personal touch that lead to lasting relationships. A smiling patient is our greatest reward and we look forward to keeping those smiles healthy, beautiful, and bright. Discover an affordable dentist who truly cares at .