Posted under:
General
Posted on: May 26, 2015
Anorexic and Bulimic Teeth Need Special Care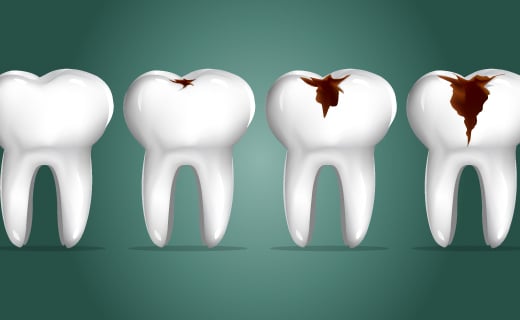 Your eating habits play a huge role in your dental health. If you have an eating disorder such as anorexia or bulimia, your teeth may be in trouble. The self-induced vomiting common to bulimia sufferers exposes tooth enamel to potent stomach acids on a regular basis. The subsequent acid erosion on teeth may quickly lead to tooth decay, cavities and tooth loss. It's a common problem seen in as many as 89 percent of bulimia patients. If you suffer from anorexia, your limited diet and nutritional deficiencies can also damage your teeth and the bones that support them. When you have an eating disorder, it's essential to get help from your dentist to save your teeth while you work towards a healthier lifestyle. Common Signs of Anorexia and Bulimia Effects on Teeth Anorexic and bulimic teeth show characteristic signs of damage that your dentist can recognize. The signs and symptoms listed below are common consequences of eating disorders.
Exposed dentin resulting in infection or pulp death
Weak, brittle, and translucent teeth
Unexplained, sudden tooth pain
Increased sensitivity to cold or heat
Signs of acid erosion on teeth
Tooth decay related to excessive rinsing or brushing following vomiting
Enlarged salivary glands
Dry mouth or cracked lips
Loss of gum tissue
Changes in the shape, length and color of anorexic and bulimic teeth
Protect Yourself from Acid Erosion on Teeth Changes in your mouth are often the first physical signs of an eating disorder. It's important to seek treatment for your eating disorder to prevent serious and potentially fatal medical complications. If you are experiencing signs and symptoms of anorexic or bulimic teeth, talk with your dental care professional about developing a strategy to help protect yourself from acid erosion of teeth and other damage, and improve your overall oral health while you obtain treatment for your eating disorder. To get the dental care you deserve from an affordable dentist in Bradenton, call today at or make an appointment. Manatee Dental offers affordable family dentistry and gentle, compassionate dental care in Bradenton. With 2 affiliated practices in the Bradenton area, our offices are conveniently located with extended hours to meet your needs. At , we provide most dental services, from basic preventative care and general dentistry to specialized procedures and complete dental reconstruction. We accept most dental insurance plans and offer affordable financial solutions for any budget. Patient satisfaction is our top priority and we strive to provide the exceptional, affordable dental care and personal touch that lead to lasting relationships. A smiling patient is our greatest reward and we look forward to keeping those smiles healthy, beautiful, and bright. Discover an affordable dentist who truly cares at .