Reasons and Remedies for Tooth Discoloration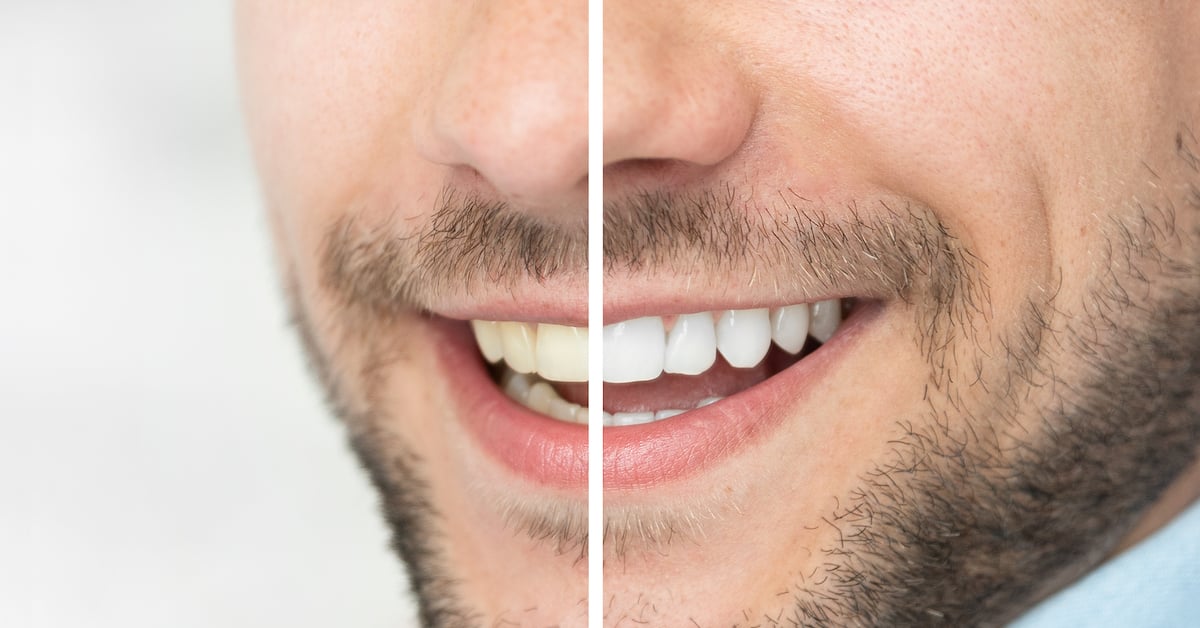 Teeth discoloration is common, but it can still be embarrassing. Bright white teeth make you look younger and healthier. There are many reasons your teeth can look dull and dingy, but not to worry, your dentist can help you get your attractive smile back.
What Causes Stained Teeth?
There are many reasons you could have discolored teeth, so it is best to consult with a dentist first to determine the reason for the discoloration. It's the only way to find the most effective treatment. Common reasons teeth look dingy, yellow or stained include:
Poor Dental Hygiene – If you don't remove plaque from your teeth daily, they will look dull and dingy.
Age – As we age, the enamel on our teeth wears down, exposing the next layer, which is dentin. Dentin is naturally yellow. Genetics plays a role in how thick and strong a person's tooth enamel is, but no matter what, eventually the enamel will start to thin.
Dental Restorations – Old amalgam (silver) fillings can make your teeth look gray.
Food and Beverages – Certain foods and beverages stain teeth. If you consume them regularly, your teeth will appear stained.
Smoking – Any tobacco use, including chewing tobacco, will stain teeth.
Illnesses and Medications – Certain illnesses and medications cause tooth staining. These stains may be difficult to fix with whitening products, so you may need to consult with your dentist about veneers or bonding.
Trauma – Injuries and accidents can cause tooth discoloration deep inside the tooth.
Environmental Causes – An excessive amount of fluoride in drinking water can also cause tooth discoloration.
What Foods Cause Tooth Staining?
Certain foods and drinks can stain the teeth, and while you can prevent the problem from becoming serious, it may be best to avoid consuming some of these with a high frequency. The worst foods and beverages that stain teeth include some of the following:
Coffee and tea, both contain tannins that lead to discoloration.
Sugar-laden soda, which can erode tooth enamel and are extremely acidic.
Red wine can turn your teeth gray as it also contains tannins.
Tomato-based sauces and foods that contain a lot of acids.
Beets, which may be good news to people who are not fond of them.
What Foods Fight Teeth Staining?
Some foods and drinks can actually help fight stains, including:
Water – Use classic water to rinse your mouth out after eating or drinking something that stains your teeth.
Eat fiber-rich apples and pears. They have a natural scrubbing action. They also contains sugars, so rinse afterward.
Strawberries can temporarily make your teeth look whiter as the malic acid in them can remove plaque.
Has Smoking Yellowed Your Teeth?
Unless you are a very light tobacco user, you've probably noticed your teeth have yellow or brown staining from smoking. When you smile, people will know you smoke when they see your teeth unless you have regular teeth whitening treatments.
What's the Link Between Smoking and Stained Teeth?
Any dental professional will tell you that tobacco use is one of the main causes of teeth staining. If you want a white smile that makes you look healthy, quit tobacco use. Smoking and using smokeless tobacco is also linked to periodontal (gum) disease and an increased risk of developing oral cancer.
How Tobacco Users Can Lessen the Effects on Their Teeth
Smokers can help minimize the damage from tobacco by:
Cutting down on tobacco use. Quitting is better, but cutting down will help.
Brushing and flossing regularly.
Getting a dental teeth cleaning twice a year to avoid tartar buildup that traps nicotine and contributes to a smoker's brown stains near the gumline.
Brushing and flossing after smoking.
Ways Smoking Can Beat Tooth Discoloration
Tobacco stains on teeth are difficult, but not impossible to remove. Over-the-counter products are not strong enough for most smoker's stained teeth. A dental cleaning and professional whitening treatment can work wonders for tobacco-stained teeth. Your dentist will go over your expectations with you and the results you can expect. A follow-up treatment may be necessary.
How to Keep Your Teeth Whiter
Follow these tips to keep stains off your teeth:
Good dental hygiene at home is essential.
Brush or rinse your mouth out with water after consuming foods or drinks that stain teeth.
Quit smoking if you have not already.
Have regular dental exams to avoid dental issues.
Have your teeth professionally cleaned twice a year.
At-Home and Dentist-Administered Teeth Whitening Methods
Typical methods for whitening teeth include:
Whitening Toothpastes – These toothpastes scrub teeth clean with mild abrasives. They may also contain hydrogen peroxide or carbamide peroxide.
Whitening Gels and Strips – These can usually lighten teeth by one or two shades. They may cause increased tooth or gum sensitivity, so it's best to follow the instructions carefully and stop use immediately if you notice any issues.
Whitening Rinses – You use these for a minute, twice a day. Since the rinse does not stay on teeth long, it can take months to lighten teeth a shade or two.
OTC and Dentist Administered Tray-Based Tooth Whitening Trays – OTC, tray-based systems are effective at lightening teeth several shades, but not as effective as ones provided by a dentist. Dentists create custom trays so the bleaching solution does not touch the gums. They can also offer a stronger solution that offers better results.
Chairside Teeth Whitening – This is the most effective solution, offering significant results, up to eight shades lighter, in one session.
Bonding, Veneers and Crowns – Some teeth discoloration does not respond to bleaching. Your dentist may suggest covering a tooth with internal staining with a restoration to improve the appearance of your smile.
If you choose an OTC product, look for one displaying the American Dental Association's Seal of Acceptance to ensure the product's safety and effectiveness. You should always consult a dentist before whitening your teeth if you have dental restorations, such as veneers or crowns. Bleaching products will not affect restorations and you could end up with uneven results.
Ask your dentist about which teeth whitening method is right for you. It won't be long till you have a whiter, brighter smile.