Understanding Impacted Wisdom Teeth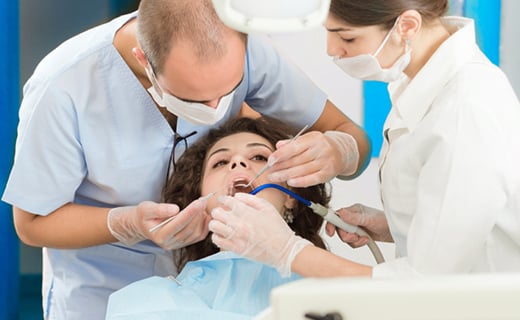 Your wisdom teeth begin to form when you are about nine years old. When you're about 14, their crowns have developed. At 16, your jaws have reached their adult size, and your dentist in Bradenton can now determine if your wisdom teeth will have room to erupt properly. If there's not enough room, the teeth may become either partially or fully impacted or trapped inside your jaw beneath bone and soft tissue. They can take many positions in their attempts to erupt, so it's not unusual to see wisdom teeth come in at an angle or even horizontally. 

When is Dental Extraction of Impacted Teeth Necessary? 

 Even when wisdom teeth are not visible in your mouth, they can cause serious problems. Infection around the crown of an impacted wisdom tooth is a common cause of pain and swelling in the back of the jaw. People often mistakenly assume the pain is caused by the tooth trying to erupt. If repeated or chronic infection is allowed to continue for a long time, it can gradually destroy the bone around the impacted tooth or spread to other teeth. In some cases, just the pressure exerted by the impacted tooth can damage neighboring teeth. Cysts and tumors of the jaw are also frequently related to impacted wisdom teeth. Dental extraction of the offending teeth is the most effective way to resolve or prevent these problems. How are Impacted Wisdom Teeth Removed? 

 When it is clear that your wisdom teeth are impacted, it is usually best to surgically remove them. Your dentist or oral surgeon will do this by making an incision in the gums, removing any bone blocking access to the tooth, and then separating the tooth from surrounding structures. Dental extraction is easier before the roots become fully formed and while bone is still flexible. If you have your impacted wisdom teeth removed in your teens, you will recover faster and have fewer complications. The majority of wisdom tooth extractions can be performed in an oral surgeon's office. The tooth extraction cost and available anesthesia methods are based on the complexity of the surgery and may vary by individual patient. Talk to your dentist or oral surgeon about your financial options and personal preferences. To get the dental care you deserve from an affordable dentist in Bradenton, call today at or make an appointment. Manatee Dental offers affordable family dentistry and gentle, compassionate dental care in Bradenton. With 2 affiliated practices in the Bradenton area, our offices are conveniently located with extended hours to meet your needs. At , we provide most dental services, from basic preventative care and general dentistry to specialized procedures and complete dental reconstruction. We accept most dental insurance plans and offer affordable financial solutions for any budget. Patient satisfaction is our top priority and we strive to provide the exceptional, affordable dental care and personal touch that lead to lasting relationships. A smiling patient is our greatest reward and we look forward to keeping those smiles healthy, beautiful, and bright. Discover an affordable dentist who truly cares at .